Allow us to entertain your guests between the wedding ceremony and reception
You've got the dress the rings and all the trimmings, the foods sorted and the DJ's booked , But what are your guests going to do between the ceremony and reception, or while waiting for the photographers?
We offer a variety of activities suitable for entertain wedding guests both young and old.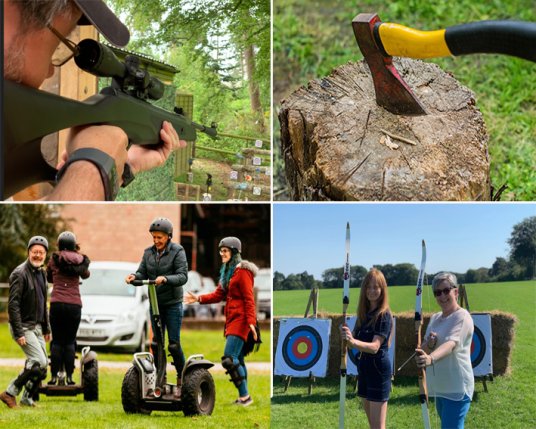 Archery - £249
Using our Recurve bows, archers take aim at our mobile targets and go for gold. Our fully qualified archery instructors are always on hand to ensure participant safety and enjoyment.
Axe Throwing - £249
Have you ever fancied giving axe throwing a go? Join an experienced instructor and learn to throw flying angels safely and accurately at our mobile axe throwing targets.
Air Rifle Shooting - £249
Check you stance, line up your shot and pull the trigger! Our expert tutor will talk you through how to use your guns and load your ammunition and how to bring down those targets in no time at all.
Segway - £349
Basically electric-powered personal transporters that look like proper space-age gadgets. All the clever geometry stuff is hidden inside the wheels and housing, but you don't need to worry about the physics of how Segways work, just enjoy the ride.
You can hire Madrenaline for any of our events for a minimum of 2 hours upto 8 hours for your big day.
Price:- from £249 per hour (min 2 hours) then £100 per hour after initial first 2 hours hire, plus 45p per mile to your venue.