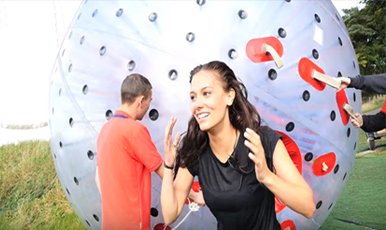 £29.50
Aqua Sphereing for one person and one person rides with you for FREE, Special offer
You and some very close friend, and 30-50 litres of water a recipe for extreme entertainment.
If youve ever wondered what it might be like inside a washing machine well you get the idea.
Please Note : Aqua Sphereing is not the same as water walking you will get very wet!
Extreme fun!
THIS OFFER IS FOR ONE PERSON AND ONE PERSON RIDES FREE WITH THEM ON THE DAY, VALID TO BUY UNTIL 28/06/2021 after which date the following then applies below. voucher valid for 24 months from date of purchase
Normal Price are as follows
£29.50 for 1 person to roll 
£39 for two peple per roll (same sphere)
£49 for three people per roll (same sphere)
To purchase your voucher for one person click 'ADD TO CART' then go to 'checkout' at the top of your screen
If you would like to purchase a voucher for two or three people then please get in touch.
You can not add another one of these because of the limited stock available, sorry for the inconvenience this may have caused
Add To Cart