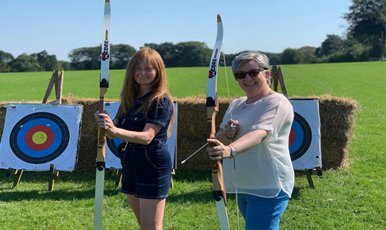 £29.50
ARCHERY
Ready to take aim and Learn the tricks of the trade and refine your technique with this excellent archery experience. With expert tuition from an experienced instructor who will help you perfect your aim and hit that target!
The art of Archery goes way back, with its roots in hunting and on the ancient battlefields, feel the satisfaction of going for gold.
Voucher valid for any Peak weekend session.
Sessions last for 1 hour
vouchers valid for 12 months from date of purchase.
To purchase your voucher click 'ADD TO CART' then go to 'checkout' at the top of your screen
Min age 8 and above
You can not add another one of these because of the limited stock available, sorry for the inconvenience this may have caused
Add To Cart