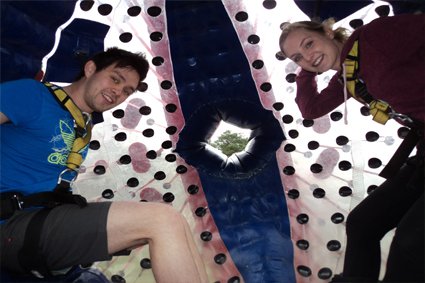 £29.50
Harness Sphereing for One person £29.50
Harness Sphereing is the most popular of our Sphereing activities, Hitting 30mph down a hill in a huge inflatable ball is a pretty awesome experience.
A tried and tested product over a decade; we have fine-tuned our Spheres and confidently offer the best Hill Rolling product on the market. The concept is simple, two people wearing full body harnesses are attached inside the Sphere, then rolled down a hill at up to 30mph.
Harness Sphereing is not for the faint-hearted and could not be described as a gentle ride! More importantly though it ll be the most fun and biggest adrenaline rush you may ever experience.
Harness Spheres always have two participants in, strapped in opposite each other, so you will ride head over heels down the hill. If you wanted a friend/parnter to roll with you please click the add to cart twice, if you purchase a voucher for one then you will ride with another person who has also purchased a voucher for one.
To purchase your voucher click 'ADD TO CART' then go to 'checkout' at the top of your screen
You can not add another one of these because of the limited stock available, sorry for the inconvenience this may have caused
Add To Cart