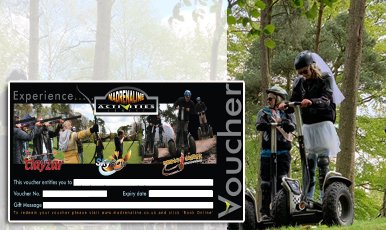 £10.00
Open Gift Voucher Spend some quality time together with this open gift voucher.
Open a world of unlimited possibilities with a day out with a variety of fun activitities that you can put your open gift voucher towards, including Segway, Air Rifles, Archery, Sky Bow, Harness Sphereing, Aqua Sphereing or Axe throwing,  you will be spoilt for choice when it comes to choosing which activities you would like to do.  Enjoy some fun together and get ready to make some new memories with Madrenaline.
Vouchers can be purchased in multiples of £10.
Vouchers valid for 24 months from date of purchase
You can not add another one of these because of the limited stock available, sorry for the inconvenience this may have caused
Add To Cart