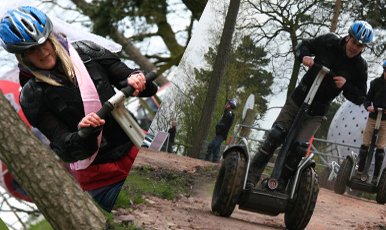 £29.50
Let us deliver the ULTIMATE Stag & Hen Event! from only £29.50pp
Stag Do's and Hen Parties - Why wait until the wedding to have loads of fun, share laughter with friends, and enjoy an incredible, action-packed day? Get the party started early with a stag do or hen party that will be talked about for years to come, It's the perfect place to gather everyone together before the big occasion, celebrating friendships whilst making new ones, and letting your hair down one last time before the wedding day itself
Maybe the stags would like to throw the groom down a massive hill in a big inflatable sphere? Or perhaps the bride-to-be and her hens want to try their hands at an off road Segway Safari? With loads of activities to try, two things are certain: hilarious fun and unforgettable moments.
Whichever activity you fancy, the choice is yours, and there's plenty to choose from. There are a range of packages available for parties of all sizes, with each giving every member of the group a chance to try for themselves and experience one, two or three activities during the day. Alternatively, if you want a specific activity for your stag/hen party like Axe Throwing or  Body Zorb Football please contact our events team for a free quote.  And why not make a day of it and bring a long your BBQ or party food and turn your get together into a real party.
For more information about all our stag and hen packages, please contact our events team or give us a call on 0345 4700 071.
We have 3 main packages for Stags & Hens
Package 1 - £29.50pp Segway Obstacle course and relay rally
Mad Axe Throwing
Sky Bow moving target
Archery
Sphereing Harness or Aqua (one roll per person)
Combat Tag Archery
Min Group size 6 no maximum amount, choose 1 activitiy from the list above for a one hour event.
Package 2 -£49pp Segway Obstacle course and relay rally
Max Axe Throwing
Sky Bow moving target
Archery
Sphereing Harness or Aqua (one roll per person)
Combat Tag Archery
2hrs of none stop fun, pick two of the activities below
Package 3 - £69pp Segway Obstacle course and relay rally
Mad Axe Throwing
Sky Bow moving target
Archery
Sphereing Harness or Aqua (one roll per person)
Combat Tag Archery
3hrs of none stop fun, pick three of the activities below
Call today to check availability and to secure your date and time for only £25.50 deposit
You can not add another one of these because of the limited stock available, sorry for the inconvenience this may have caused
Add To Cart